Windies froze me out, says Gayle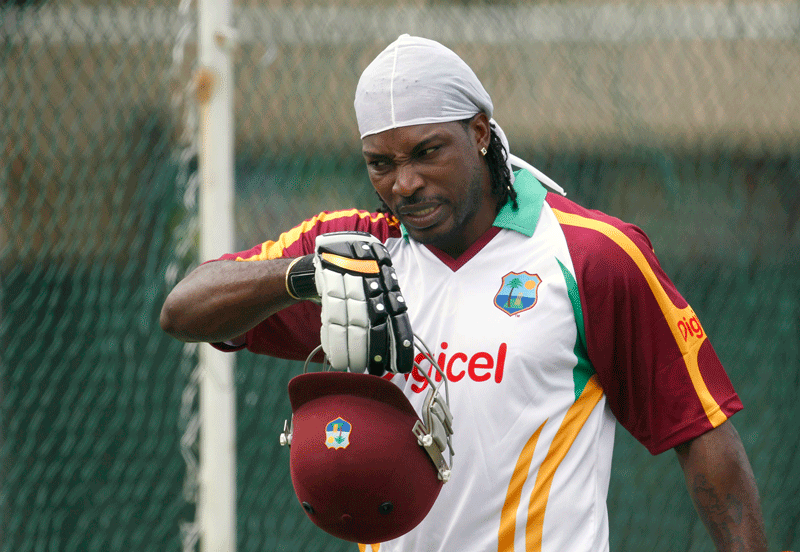 Chris Gayle claimed Wednesday he had been frozen out by the West Indies Cricket Board and was left with no option but to choose the money-spinning IPL over national team duty.
The former captain said he was forced to accept an offer to play for the Royal Challengers Bangalore because he was not sure about his place in the West Indies team, following his axing for the opening matches of Pakistan's tour.
West Indies officials reacted angrily to Gayle's decision, and said they were less than pleased with the manner in which the he handled the situation.
They begrudgingly gave him a No Objection Certificate (NOC) to participate in the IPL.
But a few hours later Gayle blasted the WICB in a revealing radio interview from India.
He said after getting injured during the World Cup, he paid all expenses for medical treatment in Britain before returning home to Jamaica, where he took it upon himself to commence a rehabilitation programme with his personal trainer.
"A group of players were selected for a training camp in Barbados, and I never got a call, nobody spoke to me, and I decided to leave it alone," an emotional Gayle said in an hour-long interview on Jamaican radio station, KLAS Sports.
"I continued my training programme, and I came to find out via the media that a Twenty20 squad was announced, and a one-day International squad was announced, and I was stunned when I saw a big headline in the newspapers, 'Gayle, Sarwan, Chanderpaul dropped'."
Gayle said he was puzzled because no WICB official had actually called to check-up on him.
He felt the least they could have done was to call him to the training camp at the West Indies High Performance Centre in Bridgetown, and assess his fitness before making a decision about the team.
"The only communication I have had with anyone connected with the WICB was when I sent a text message to (team physio) C.J. Clark, and gave him an update about how I was doing," he said.
"I told him I was feeling good, the progress I was making, I was running, I was in the gym, and working. His only response was that he would send a fitness programme, which I did not receive until the IPL offer had presented itself."
He continued: "I wanted to get back on track as quickly as possible. I wanted to play and represent West Indies.
"This was my ultimate goal, since I did not have a contract, but I was forced into this decision because teams were picked, I was not informed about what was happening, and I did not know what the future would hold.
"The matches could be played, and other players do well, and I could still be sitting on the sidelines, so I had no other choice."
Gayle said when he requested the NOC from the WICB, there was a hive of activity, and correspondence from various officials was coming left, right, and centre.
"All of a sudden, everybody got energy, and they were trying to contact me," he said.
"As much as I wanted to play for West Indies, they left me with no choice.
"I have served West Indies for many years, but I was disrespected a lot, and I have been playing under a lot of pressure."
Pakistan will play one Twenty20, five ODIs and two Tests against West Indies during their tour which starts on Thursday.
The WICB, who said that so far a national squad had only been named for the T20 and first two ODIs, was "most disappointed" at Gayle's conduct.
"The WICB does not accept Gayle's reason for making himself unavailable but as he has already clearly made his choice and has travelled to India, the WICB does not wish to stand in his way," it said in a press release.
Follow Emirates 24|7 on Google News.