EAD calls for observing Earth Hour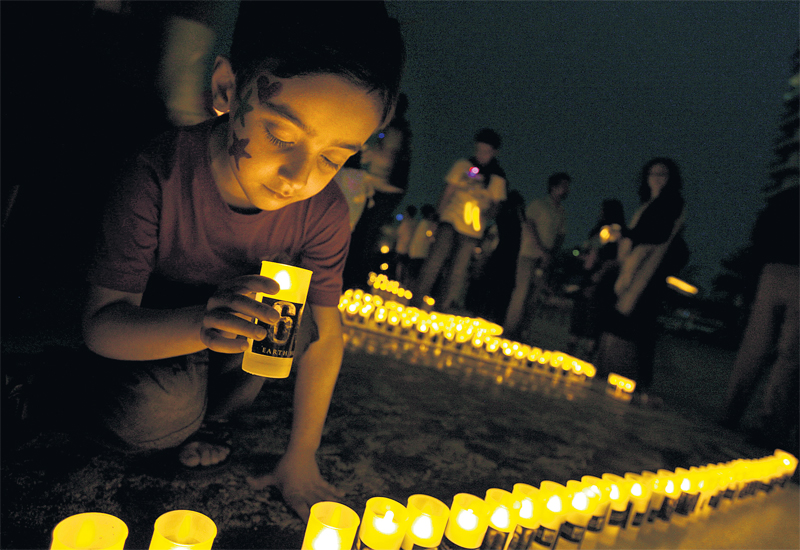 Those living in the UAE are being urged to participate in this Saturday's Earth Hour 2010.
The Environment Agency, Abu Dhabi (EAD) has issued a call to citizens, companies and institutions throughout the emirate to switch their lights off this Saturday, March 27 from 8.30pm to 9.30pm, as a mark of pledging support to our planet.
"Earth Hour is not intended to be the solution to global warming but rather a way of affirming our commitment to tackling what is the most serious challenge presently facing humanity," said Majid Al Mansouri, Secretary General of EAD.
"We must work together to raise public awareness and pass a strong message that something can be done and must be done today."
Thousands are expected to take part in a candle-lit march starting from the Jumeirah Beach Hotel in Dubai.
A variety of institutions across the country have already confirmed their involvement, with some companies joining the walk while others pledge to turn off computers and resort to typewriters.
Earth Hour is an annual international event – created by the World Wide Fund for Nature (WWF) – that calls on individuals and businesses to turn off their non-essential lights and electrical appliances for one hour.
New economic modelling indicates the world has just five years to initiate a lowcarbon industrial revolution before runaway climate change becomes almost inevitable.
The initiative started in 2007 in Sydney, Australia when 2.2 million homes and businesses turned their lights off for one hour.
A year later, Earth Hour became a global sustainability movement with more than 50m people across 35 countries participating and global landmarks such as the Golden Gate Bridge in San Francisco and Rome's Colosseum standing in darkness.
In March 2009, the UAE took part in the third Earth Hour, along with 87 other countries. According to an official report by the Dubai Electricity and Water Authority, power consumption in the emirate fell by 146,000kWh during Earth Hour 2009, with a 88,000kg drop in carbon dioxide gas emissions.
This year, 103 countries have confirmed their participation so far.
Follow Emirates 24|7 on Google News.