Nadal still claycourt king, says Djokovic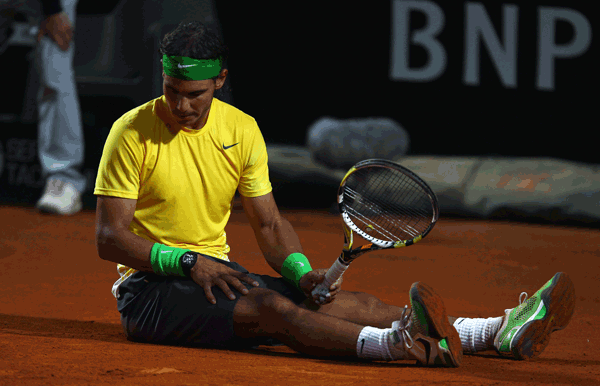 Novak Djokovic insisted he has not displaced Rafael Nadal as the king of clay despite beating the world number one in the last two Masters finals on the Spaniard's favourite surface.
Djokovic dethroned Nadal as the title-holder in Rome with a 6-4 6-4 victory, just one week after also beating him in straight sets in Madrid.
In doing so he became only the third player to beat Nadal on clay more than once, joining Gaston Gaudio (three) and Roger Federer (two) in holding that distinction.
But even so, Djokovic insists Nadal is still the man to beat on the red stuff with the French Open, where the Spaniard will be seeking a sixth title, starting next weekend.
"He's the king of clay, he's the best ever to play on this surface, he's been so dominant on clay courts," said the world number two.
"Yes I won two matches in the last eight days and that's incredible for me, it gives me a lot of confidence ahead of the French Open.
"But it's just two tournaments whereas he's been so dominant for so many years."
Djokovic won for the 37th time in a row since the start of the season and 39th in all, including two Davis Cup matches at the back end of last year.
He is sixth on the all-time list of longest winning streaks and if he wins the French Open he would equal Guillermo Vilas's mark of 46 from 1977.
He is second only to John McEnroe in the list for the best winning start to a season and needs only to reach the Roland Garros semifinal to surpass the American's 42-match mark from 1984.
"For me it's an incredible honour to be a part of history in some way and to be a part of an elite of players like Federer, Nadal, McEnroe and (Ivan) Lendl, guys who have won so many in a row and then me," said the 23-year-old.
"It makes me so proud and happy, I don't know how much good it brings to tennis but I'm happy there's some other players than Rafa and Roger winning big events. It's good for tennis, it makes it more interesting."
And Djokovic puts his new found steel and consistency down to a team success with Serbia in the Davis Cup in December.
"Everything started from the Davis Cup. I did make some changes but all these years I've been in a learning process, working hard and waiting one day for everything to come together and all the work to pay off," he said.
"I was winning major events before but I didn't have this consistency or the right mental approach against the big players.
"I was losing a lot in Grand Slams and Masters against Rafa and Roger, I didn't have the confidence.
"The Davis Cup gave me incredible energy and I'm definitely not thinking about losing matches, I'm just thinking about winning."
Follow Emirates 24|7 on Google News.