Jewellery, base metals lead export growth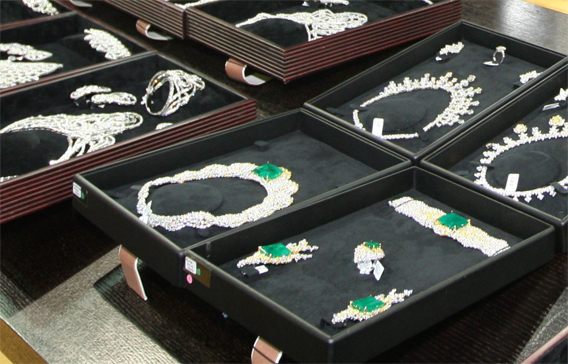 Exports from Dubai (excluding free zone trade and re-exports) rose by $2.66 billion (Dh9.77bn) in 2009 year-on-year, thus registering a 22 per cent rise over 2008, Dubai Statistics Centre (DSC) figures showed yesterday. Simultaneously, the emirate registered a decline in imports and re-exports. The export figures were led by jewellery and base metals, according to figures from Dubai Export Development Corporation (DEDC).
An official at DEDC termed the trend as "maturing" of Dubai's economy, which suggests the growth of the emirate as a "manufacturing hub". The new figures come after the emirate began tapping markets in South America for exports.
"Dubai's exports have increased because its firms are globally competitive and able to effectively penetrate new markets while extending the reach of existing ones," said Saed Mohamed Al Awadi, CEO, DEDC.
"The data shows that traditional markets of South Asia and the Gulf Co-operation Council states are important but at the same time new markets have been developed," he said.
"A decline in imports and a rise in exports suggest that more and more value addition is being done in the emirate," a Dubai-based analyst said. According to available data, the emirate exported jewellery worth $32.9bn in 2009, base metals (primarily aluminium) worth $4.2bn, edibles worth $3.5bn, minerals worth $2.2bn and plastics worth $2.66bn. The corresponding figures for re-exports were $45.4bn for jewellery, $3.8bn for base metals, $1.99bn for food, $386 million for minerals and $2.9bn for plastics.
Till the third quarter, most of Dubai exports headed towards South and West Asia, GCC countries, Western Europe, the Middle East and North Africa and Africa, according to DSC. In percentage terms, while the export of jewellery and foodstuff had shown a constant rise, base metals fell in the third quarter, DSC figures showed.
"Dubai is without doubt the region's sourcing hub and as such it re-exports substantial volumes of base metals and plastics," said Al Awadi. "Re-exports of base metals reached Dh3.8bn while plastics were at Dh2.9bn. Exports were at Dh4.2bn and Dh2.66bn for base metals and plastics, respectively. Dubai is fortunate to have globally competitive firms."
Keep up with the latest business news from the region with the Emirates Business 24|7 daily newsletter. To subscribe to the newsletter, please click here.
Follow Emirates 24|7 on Google News.