Japan upgrades economic assessment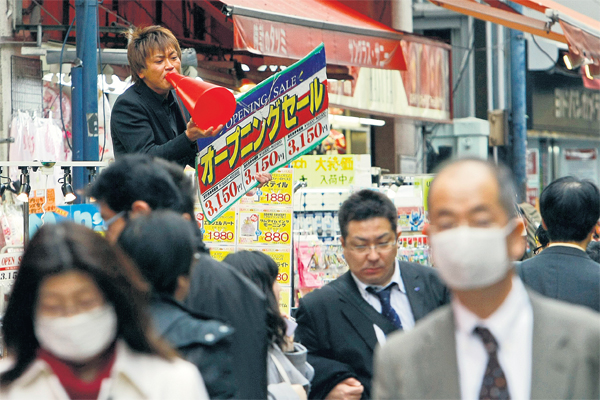 Japan's government upgraded its assessment of the economy yesterday for the first time in eight months, but reiterated that deflation posed a risk and called on the Bank of Japan (BoJ) for further economic support.
The government has said since July last year that the economy was showing "signs of picking up" or just "picking up", but it added the word "steadily" in its monthly report to suggest a modest upgrade in its view.
The government said it will work with BoJ to beat deflation and ensure an economic recovery, maintaining pressure on the central bank to loosen policy at a two-day policy review ending tomorrow.
"The upgrade of the government's economic view does not mean Japan is getting closer to overcoming deflation. We discuss the two issues on a different level," Keisuke Tsumura, a parliamentary secretary of the Cabinet Office in charge of compiling the report, told a news conference.
"Escape from deflation is still far off," he said. Consumer prices excluding food and energy costs, the narrowest measure in Japan that is similar to the core index used in the United States, fell from a year earlier for the 13th straight month in January.
Finance Minister Naoto Kan says he wants an end to deflation this year and that inflation of one per cent is desirable. The BoJ, which sees deflation lasting a few more years, is leaning towards easing policy this week by extending or expanding a three-month bank lending operation, sources said.
But the policy-setting board is split, partly because some policymakers see little economic justification for easing further, especially when the economy is improving along the lines of the central bank's official expectations.
"I hope the BoJ will take appropriate policy steps in view of Japan's current economic situation," said Deputy Finance Minister Yoshihiko Noda. The government's efforts to push the BoJ are designed not just to stimulate the economy, a government source said, but to boost public expectations that prices will start rising soon.
Follow Emirates 24|7 on Google News.