Capital spending tops $53bn on developments, budgets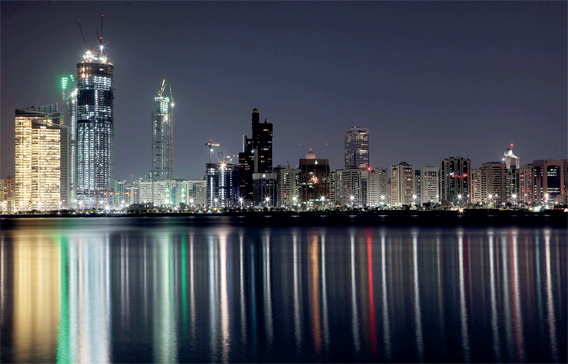 Abu Dhabi boosted its public spending to a record high of more than $53 billion (Dh194.67bn) in 2009 because of higher development expenditure and financial commitments to Dubai and local banks, a key Saudi bank said yesterday.
Development spending alone is believed to have swelled by around 22 per cent to $4.3bn last year while the emirate's annual contribution to the federal UAE budget grew by about 18 per cent to $19.6bn. Current expenditure, involving salaries to civil servants and other categories, is believed to have been cut.
According to the Saudi American Bank Group (Samba), domestic loans and equity investments were initially programmed to fall back sharply to $4.9bn, following what it described as a crisis-related spike to $13.7bn in 2008. "However, it is clear that actual spending in this category was much higher, given Abu Dhabi's $4.4bn bank capital injection, and financial support to both its government related enterprises (GREs), as well as Dubai. Rough estimates suggest that spending totalled around $53.4bn in 2009," Samba said in its monthly economic bulletin, sent to Emirates Business.
The bank believed Abu Dhabi, the main oil and gas producer in the UAE, resorted to oil proceeds from the Abu Dhabi National Oil Company (Adnoc) and sovereign bonds, as well as its massive overseas assets to finance the budget rise. It referred to the Abu Dhabi Investment Authority (Adia), which controls the bulk of the emirate's assets abroad and is one of the world's largest sovereign wealth funds.
"Given the slump in oil revenues, we assume that this was financed through dividend payments from Adnoc [which are usually retained or transferred to Adia], the proceeds of the $3bn sovereign bond issue, and a significant drawdown of funds from Adia," it said.
"Looking ahead, the uncertainty over what additional payments the Abu Dhabi Government needs to factor into its 2010 budget may be the reason behind its delayed announcement," said the report.
"These payments are likely to include support for Dubai [the $5bn announced late last year will be in the 2010 budget, but more may be needed], and possibly new capital injections for banks and sustained finance for GREs. It may be that the 2010 budget will not be finalised until there is some resolution to the DW [Dubai World] restructuring, and hence a better idea of potential financing needs. On the plus side, oil revenues are projected to be stronger and should provide a welcome fiscal buffer."
Samba, one of the largest banks in Saudi Arabia, cited the recent report by the International Monetary Fund (IMF), which said the UAE's financial position remains strong despite lower revenue and Dubai's debt issue.
Follow Emirates 24|7 on Google News.