Katy Perry reveals childhood mocking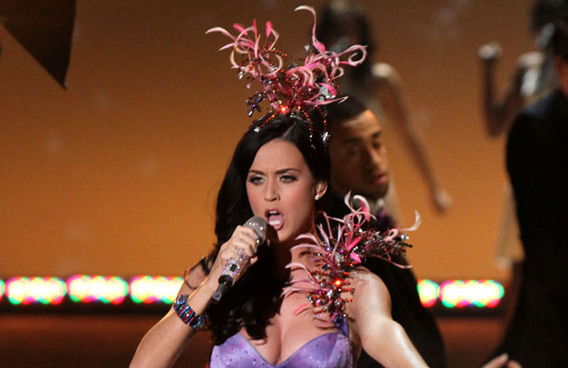 Katy Perry was nicknamed "over the shoulder boulder holder" at school.
The 26-year-old singer has revealed that her ample chest led to her classmates ridiculing her and referring to her by a slang term for a bra, but now her buxom figure receives compliments.
Tweeting about her school years she wrote: "#Inmiddleschool they called me "over the shoulder boulder holder" now they call me "hot" (sic)"
The 'Firework' hitmaker - the daughter of Christian pastors - also admitted she had "c**p" lunches but no one ever wanted to trade and give her their more interesting foodstuffs.
She tweeted: "I had such c**p(healthy) brown paper bag lunches that I couldn't trade ANYTHING. Had carrot sticks NO dip. (sic)"
Although Katy - who is married to actor and comedian Russell Brand - was teased for having large breasts as a teenager, she has revealed in the past that she prayed throughout her childhood that she would grow up to have a big bust.
She said: "I remember really vividly kneeling by my bed as a nine year old, saying my prayers and asking God to give me boobs that were so big that if I laid on my back I wouldn't be able to see my feet.
"Eventually that request was granted. A bit of divine intervention displays the power of prayer!"
Follow Emirates 24|7 on Google News.