Saudi Arabia's airport tenders worth SR17bn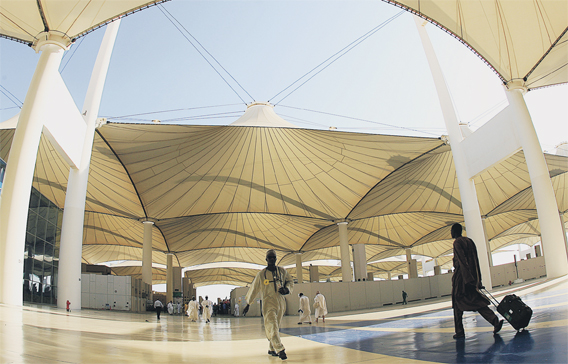 Top Opec oil exporter Saudi Arabia is planning to launch tenders worth more than SR17 billion (Dh16.52bn) this year to modernise two airports in the Gulf state, an official said.
Traffic at Saudi airports has reached 30 million passengers annually and is expected to double to 60 million over the next 10 years, said Alaa Samman, Director of business development at the General Authority of Civil Aviation (Gaca).
In order to cater to this growth, the government wants to launch projects costing at least SR55bn to overhaul airports to be completed over the next 20 years, he added.
For this year alone, Gaca wants to launch tenders to build a new airport in Madinah and a commercial centre near Jeddah airport.
The new Madinah airport, estimated to cost between SR7bn and SR8bn, will increase traffic capacity to eight million passengers a year from three million.
"We plan to offer a 25-year build, operate and transfer contract for the development of a new airport in Madinah," said Samman. The tender will be launched in May with bids accepted until October and contracts to be awarded by December.
In Jeddah, Saudi Arabia's commercial hub, authorities want to build an "airport city" that will include hotels, office buildings, housing units, malls and even a flight academy, said Samman.
The Jeddah airport, which is a gateway for millions of pilgrims to the holy cities of Makkah and Madinah, receives 18 million passengers a year and expects to see an increase of up to 30 million by 2013, said Samman.
"We have offered two large pieces of land, one is one square kilometre and the other is 1.4 square kilometres, to Saudi and foreign investors for the development of the airport city," he said. Development would cost around SR10bn.
Four prequalified consortia including Australia's Land Lease Corp, Saudi's Saudi Oger and Saudi Real Estate (Akaria), as well as US developer Hines, are expected to submit bids before the end of May.
The contract is scheduled to be awarded by August.
"We have presented the projects to consortias to bid on a build, operate, transfer deal that will last 99 years," he said.
Developing lands around Saudi Arabia's busiest airports in Jeddah, Riyadh and Dammam are part of GACA's strategy of increasing revenues in preparation for full privatisation. Another "airport city" is planned in the capital Riyadh, to be launched on a smaller scale next year.
Keep up with the latest business news from the region with the Emirates Business 24|7 daily newsletter. To subscribe to the newsletter, please click here.
Follow Emirates 24|7 on Google News.