Scripting a success story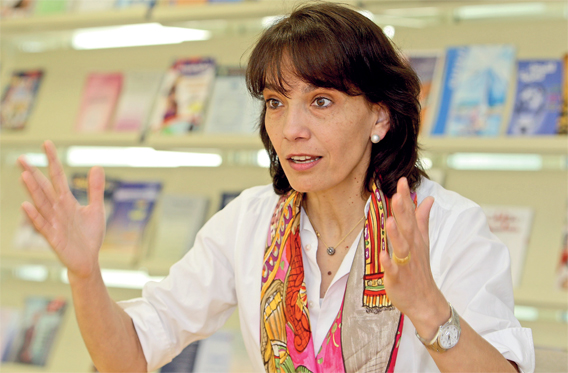 Kitab, a joint venture between the Abu Dhabi Authority for Culture and Heritage and Frankfurt Book Fair, is working on a series of projects designed to create a strong publishing industry in the emirate. The priority is the annual Abu Dhabi International Book Fair, which ended yesterday. The event has been running for the past 20 years.
It also organises smaller book shows and recently introduced a scheme – Kitab Bus – to promote reading and help create a strong reading culture. Other projects to boost the publishing industry include setting up a pan-Arab distribution company and creating a fund to support young people wishing to start publishing businesses. Kitab General Manager Monika Krauss told Emirates Business about her plans to turn the organisation into a regional publishing industry leader.
How is Kitab promoting literature and the publishing industry in Abu Dhabi?
Kitab was established in 2007 as a joint venture between the Abu Dhabi Authority for Culture and Heritage (Adach) and Frankfurt Book Fair. The idea behind it was that Adach wanted to modernise the Abu Dhabi International Book Fair. Abu Dhabi is also very keen to bring forward everything that has to do with education and culture. I think that is another reason for setting up Kitab. Their focus is very much on education and cultural heritage.
What projects are you engaged in to support the publishing industry?
Our main project is the Abu Dhabi International Book Fair, but we have lots of other projects currently under way and others that will be announced soon. They include a project promoting reading and creating a strong reading culture in the country, because this is extremely important. This is just one of the new projects. I'm working to set up a pan-Arab book distribution company to help boost the publishing industry and create a competitive environment, not only in the UAE but in the entire Arab World. We also have an ongoing project that gives training to new publishers in the Arab World and we are planning to internationalise by bringing international publishers and authors on board. Another project is a fund being planned to help young publishers and authors to get their works published and marketed. This will help create a real publishing industry in the country. We are also planning to set up facilities where young people keen to get into the publishing business can receive short or long-term training on how to set up a publishing house. There will also be a training scholarship programme to help boost the country's publishing industry. I'm also working on a literary and publishers' club in Abu Dhabi that will bring all publishers and authors under one roof. The club will be open to both expatriate and local authors and publishers in the emirate. This is my dream because it can become a hub for literature and publishing in Abu Dhabi. It will be a home for literary people, authors and publishers.
What is Kitab doing to attract international publishers to do business here and tell the world there is a potential market for books?
Kalima, another Adach project, is doing a good job by translating very important international titles into Arabic that are widely sought and bought here. This helps us attract international publishing houses as it shows there are opportunities and potential in Abu Dhabi's publishing industry. We tell them books are being sold, books are being translated and the licensing business is progressing.
How would you describe the reading culture here in Abu Dhabi, and do you think there are enough public libraries in the emirate to promote culture?
The reading culture in Arab countries and here in Abu Dhabi might not be as developed as in other countries. It is because our culture is that of listening, Arabs traditionally told stories. It has always been a story-telling culture. It is just a different way to access intellectual works. Soon there will be more and more libraries opening in the emirate, especially at shopping malls. For example, the Singaporean concept is to bring libraries to people instead of making people go to libraries. This is what Abu Dhabi is working on now. In the next three years, there will be large number of libraries opening in malls. This year alone we will see a large library opening at Abu Dhabi Mall. We will also have mobile libraries.
Are you planning to have book fairs in other parts of the emirate?
My job is to promote reading and we have several projects to help achieve this. One of the projects involves setting up several smaller book shows in other parts of the emirate. We started with Al Ain last October, it was not a book fair but a book show. We will do this again this year and we will add another show in Al Gharbia (Western Region). We will also see what will be needed to further promote reading. We also have the Kitab Bus, which is not a library but a facility to promote reading. We show people that reading is fun.
PROFILE: Monika Krauss General Manager, Kitab
Krauss joined Kitab after spending two years with German publisher Prestel Verlag in Munich, where she worked as both an in-house lawyer and personal assistant to the publisher. She was born at Derbendikhan in Iraqi Kurdistan and lived in Nigeria, Algeria and Switzerland before settling in Germany, where she graduated from Munich Law School. Before joining Prestel Verlag, she worked 10 years for Children for a Better World, a non-governmental organisation based in Munich.
Keep up with the latest business news from the region with the Emirates Business 24|7 daily newsletter. To subscribe to the newsletter, please click here.
Follow Emirates 24|7 on Google News.