Schumacher finds things have not changed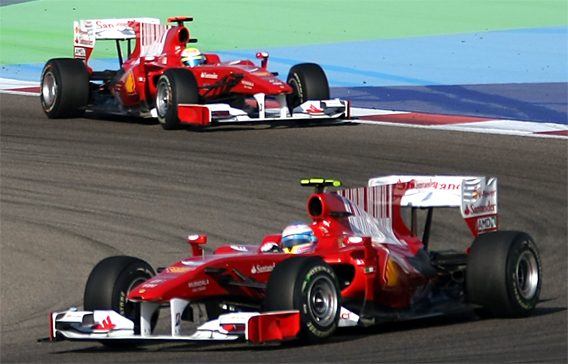 Michael Schumacher returned to Formula One yesterday after three years in retirement and found it was just how he remembered it.
Ferrari filled the top two steps of the podium, the race was dedicated to the workforce of the Italian team and a McLaren driver came home third. Cue widespread Latin celebrations.
Except, this time around, the seven-times champion, now 41, was not wearing the famous red overalls or driving for the scarlet scuderia.
Instead, he was stripped out in silver, racing for Mercedes on their return as a works team for the first time since 1955, and struggled home sixth, one place behind his team-mate.
At least he had the excuse that fellow-German Nico Rosberg, the son of original flying Finn and former champion Keke Rosberg, was 17 years his junior. Looking just a trifle puffed, slightly pink and even a little relieved at finishing the 49-laps season-opening Bahrain Grand Prix, Schumacher admitted he had done as well as he could in the circumstances.
He may be, to many, the greatest F1 driver of all time, but even he could not hand out decades of age advantage to most of the drivers around him and still expect to strut his stuff on top of the rostrum.
This time out, Schumacher was more than 40 seconds behind the victorious Alonso in a race that was largely processional – a fact that did not escape the notice of the once-dominant German driver.
"For me, it was fun, but the racing was really pretty straightforward. It's the start and then, after that is just 'go your own pace and do not make any mistakes'.
"Overtaking, basically, is impossible other than if somebody makes a mistake. I think Lewis (Hamilton) made a little one so Nico (Rosberg) was able to pass him, but he got back that place at the pit stop.
"I think that is all the action we are going to have with this kind of race strategy, unfortunately."
His assessment of the new rules 'formula' for the first time since 1993 were widely regarded as accurate.
Follow Emirates 24|7 on Google News.