Opec urged to follow UAE on clean energy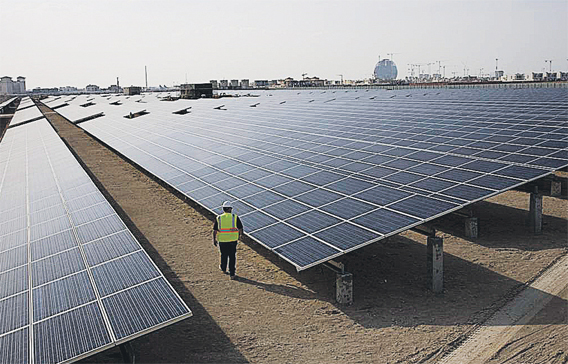 The Organisation of Petroleum Exporting Countries (Opec) should join the UAE in developing cleaner sources of energy and supporting efforts to curb oil consumption and combat pollution, a veteran Arab energy expert has said.
Nicolas Sarkis, Director of the Paris-based Arab Petroleum Research Centre (APRC), said the 12-nation Opec should not rejoice at the failure of the recent Copenhagen summit to reach an agreement on the proposed carbon tax [scheme] but should instead work with consumers to rationalise oil consumption.
"To maintain, if not increase, the revenues of oil-exporting countries while meeting the objectives of the carbon tax, would it not be preferable to limit oil production and raise prices to a level that is sufficient to stimulate investments in clean and renewable energies," Sarkis wrote in APRC's monthly magazine.
"When they complain that the taxes already levied on petroleum products by importing countries exceed their own revenues, oil-exporting countries are feigning [ignorance] that this was made possible by the fact they compete against each other to step up exports and by the sharp drop in prices that they brought about themselves, especially during 1985-1986 and in 1998."
Sarkis, whose centre is an Opec advisor, said several of the organisation's members have taken note of these "obvious facts of life" and have already embarked on ambitious programmes for developing solar energy and other renewable energy sources, which they could even export in future.
"That is the case particularly of the UAE, which is seen as an example for everyone through its construction of Masdar City and its hosting of the World Future Energy Summit in January.
"It is not in the interest of any oil-exporting country to swim against the tide, to look like an irrepressible polluter of the environment we all share, or worse still, to drive oil prices down in order to prevent or delay the development of other cleaner energy sources. Nevertheless, the reality is that oil-exporting countries have as many, if not more reasons than others, to make every effort to fight against the disastrous increase in greenhouse gas emissions and slow the depletion of oil and natural gas resources," he said.
"The first reason is that they live on the same planet as everyone else and cannot ignore the catastrophic effects the consumption of fossil fuels has on our environment, especially as some of them have among the highest per capita CO2 emission rates in the world.
"The second reason is that the rationalisation of hydrocarbon consumption and production has become imperative because of the scarcity of new discoveries, the accelerating pace of the natural decline in output at mature fields and the spectre of production peaking in a few years' time," he said.
Follow Emirates 24|7 on Google News.